Today's guest is a designer whose work carries a fashion sensibility so close to my own wardrobe, I find myself drooling over practically everything she designs. It's none other than the fabulous Grace Akhrem, and if you're not familiar with her work you should
go queue it all immediately
, then come back here and read the rest of the interview.
I first met Grace last June at TNNA, and she immediately made me feel welcome hanging out with all the cool kids. Grace's fantastic, low-key personality punctuated by hilarious outbursts of sarcastic commentary meant we hit it off right away, and I'm honored to count her among my professional friends. Every time I walked by her booth last month at the show, she had out some new sample that I had to stop and pet and try on and attempt to stuff into my giant knitting bag. (No luck though, some people are just SO touchy about stealing!) ;)
One of Grace's most ingenius designs is a tribute to another knitwear designer; it's called
Olga's Vest
and can be styled in over 12 ways! Grace is heading up a knitalong for this pattern beginning August 4th for anyone who's interested, and you can find more details about that
here
.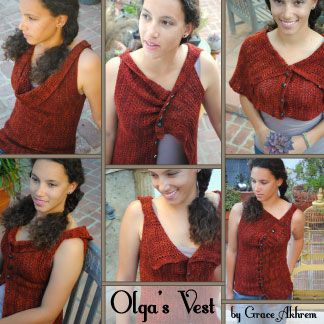 TSK:
So, Olga's Vest can be styled at least 12 different ways, and probably many more. I love that the creativity you had in designing this piece inspires creativity in others to find new ways to wear it! How on earth did you come up with the idea to make this garment? Did you know going into it that it would be so versatile?
GA:
I had no idea that this vest was going to be so versatile. I intended for it to be worn two ways - forwards and backwards. When I finally finished the vest and sewed on all the buttons I asked a friend to try it on. She kept trying it on all the different ways - we were both surprised how versatile the garment could be... and it's all because of the buttons and the stitch I created.
TSK:
This appears to be just your sixth adult garment since you started designing. Your accessory patterns have experienced huge success,
one of which
nabbed the cover of Interweave Gifts in 2011. Where does your heart for designing lie? Do you find that you enjoy designing accessories more, or can we look forward to seeing more garments from you in the near future?
GA:
I guess it depends more on my mood. I have a very short attention span when it comes to yarn and colors and I might lose interest in something rather quickly, which is why I usually create more accessories. Lately I have found myself more disciplined and able to knit something in the same yarn that is longer than 300 yards. I do love designing garments - especially the ones that can be worn more than one way. I have a few more garments on the needles and a couple more in the queue that I hope to have finished before May. You will still see more accessories from me, but I guess it just depends on my attention span.
TSK:
What's up next for you? Any big plans for designing in 2012?
GA:
Yes! It seems like I am always getting ready for the next TNNA. This TNNA I only had three new patterns - my all time low. I hope that when I have that few that they are very strong patterns. I want to have about 5 pieces for this next TNNA and I have been thinking about putting together an e-book. My only problem is my full-time job and all the time constraints that come with it. But I am very optimistic and I think I can make it happen this year.
TSK:
Sounds like you have a big year ahead! Okay, last question. What makes you feel "sexy"?
GA:
I'm not really sure what makes me feel sexy.... heels maybe?.... especially stilettos.
Thanks so much for stopping by, Grace! Y'all be sure to look Grace up not only on Ravelry but also on her
Facebook
and
Twitter
pages. She'd love to see you all over there!
We have a fabulous giveaway to go along with today's post! (You knew that part was coming, right?) The amaaaaazing
Anzula Luxury Fibers
has offered up enough
Squishy
for one lucky winner to knit their very own Olga's Vest as part of Grace's KAL! Grace will also be providing the pattern to the winner, free of charge. All you need to do to enter is leave a comment stating which size you'd make, and whether you'd prefer
Maple
or
Plum
. And if you're on Twitter and want an extra entry, just tweet the following:
I've just entered to win an Olga's Vest kit from @Anzula, @GraceAkhrem & @TheSexyKnitter! Find out more here: http://tinyurl.com/gtkygrace.
Good luck all, and we'll announce the winner on July 25th! (You'll need to be "present" to win though, and the winner will have 3 days to claim their prize or we'll select someone else.)
_________________________________________________
Picks of the Day:
Sexy Knitter readers always receive free shipping with the coupon code "loyaltyship"!
Want your Etsy Mini in this spot? Click here!